World
Pressures in Europe to allow coronary artery vaccine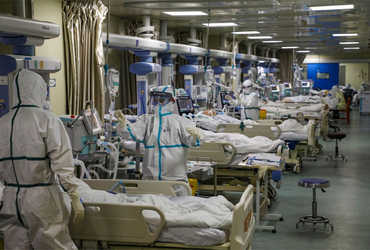 London, ta. Saturday, December 19, 2020
European regulators are increasing pressure to quickly approve the corona vaccine and begin vaccinations, as the second wave of the corona epidemic in European countries has led to a strict holiday season. In these circumstances, the European Union has counted another 80 million doses from Modern.
Europe has already received two billion doses from various companies. The Pfizer-Bioentech corona vaccine is expected to be launched on 27 December. After the US and the UK, there has been increased pressure on European regulators to use the Corona vaccine in emergencies.
On the other hand, today, due to registration of 1,82,118 new cases of corona in the world, the total number of cases has increased to 76,174,890. The death toll rose to 16,84,632 with 4,275 deaths.
The total number of corona cases in India was 1,00,13,478 and 8653 new cases were reported in India. Meanwhile, according to UK media reports, delivery of the Oxford-AstraZeneca Corona vaccine will begin in early 2021 if approved by the UK's autonomous regulator later this year.
On the other hand, two billion corona vaccine supplements are ready for Kovacs in the Global Vaccine Partnership. It also contains 200 million doses of AstraZeneca. The vaccine will be purchased under an agreement between Yuti Gavi, Serum Institute of India and the Bill & Melinda Gates Foundation.
World Health Organization (WHO) general secretary Tedro Ghebre said the news was a historic event in the field of world health. The light at the end of the tunnel has intensified and we will only get there when we are together.
Serum Institute of India CEO Adar Poonawala said that his company had contracted to supply 100 million doses of Novax and 100 million doses of Korzana vaccine from AstraZeneca-Oxford. The option to add another 900 million doses is also open.
Kovacs aims to provide 1.3 billion Koro vaccines through donations to 92 billion poor and middle class countries. In France, President Macron reported his health via video, stating that he was suffering from headaches, fatigue and dry cough. He blamed his negligence and luck for getting the corona infection.