World
President Trump extended restrictions on green cards and work visas until March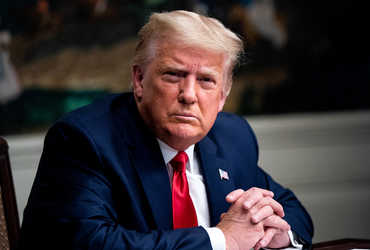 (PTI) Washington, d. a
Outgoing US President Donald Trump has extended restrictions on foreign work visas and green cards, including H-1B visas, which are in high demand among Indian IT professionals for the benefit of American workers as of March 31. With this, Trump has given a big twist to immigrant professionals in the new year. However, newly elected Vice President Kamala Harris announced on Tuesday that she would bring a bill for Congress to lift the restrictions imposed on Trump immigrants.
US President Donald Trump ordered a ban on various categories of work visas on April 2 and June 2 of last year. Trump's June 9 work visa ban ends on December 31. Hours before the sanctions expired, Trump issued a new order extending the restrictions until March 31. Trump's anti-immigration policy, which began with a ban on travel in seven Muslim-majority countries, continues for 20 days before he leaves for his presidency. However, US President-Elect Joe Biden promised to lift the ban on H-1B visas, saying Trump's immigrant policy was cruel and harmful to the US economy.
President Trump said Thursday that Corona's impact on the American labor market and the health of American society is a matter of concern. These include an increase in the unemployment rate, epidemic-related restrictions on businesses imposed by states, and an additional transition to Corona from June. The ban also bans a number of temporary visas used by people from abroad to work in the United States. These include H-1B visas, which are very popular in the technical field. In addition, H-3B visas have also been banned for non-agricultural seasonal workers.
There is also a restriction on visas for JU-1 for cultural exchange for AU dual and short-term workers, and for spouses of H-1B and H-2B visa holders. Companies are subject to restrictions on L visas issued to employees in the United States. The ban ends on March 31, 2021. It can also be extended as needed.
According to sources, Trump faced pressure in 2021 to extend a ban on work visas and green cards. Some colleagues say that the US economy has not yet fully recovered from the epidemic. Newly appointed US President Joe Biden will be sworn in on January 20. He has announced the repeal of many of Trump's immigration policies.
Newly appointed Vice President Kamala Harris tweeted on Tuesday that she would bring a bill for the US Congress that would grant citizenship to 11 million undivided people. Since 2010, 4.5 lakh Indians have been living in the United States without any documentation.