World
Joe Biden appoints 20 Indian Americans to White House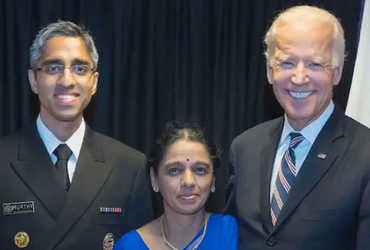 (PTI) Washington, Ta. Sunday, January 17, 2021
Joe Biden, who was elected as the President of the United States, made his policy clear by appointing 20 Indian Americans, including two Kashmiri women, to run the White House at various places.
It is a matter of pride for Indians, who make up only one percent of the total American population. Of those appointed, 17 will work in the White House. Neera Tandon was appointed director of the extremely powerful committee on budget and management.
78-year-old Joe Biden will be sworn in as the 46th President of the United States on January 20. For the first time in American history, a woman (Indian-American Kamala Harris) will be elected Vice President. Kamala Harris, 56, is the first African-American of Indian origin to be elected Vice President of the United States.
Apart from Neera Tandon, Drs. Vivek Murthy, who was appointed US Surgeon General, was topped the list of Indian Americans. Vanita Gupta was appointed Associate Attorney General of the Department of Justice. Apart from Indian Americans, one Pakistani, one Bangladeshi and one Sri Lankan. Shruti pneumonia.
Uzra Zeya was then made Under Secretary for Civil Defense, Democracy and Human Rights. Prior to this, Uzra Zia was in the Foreign Service. The American administration has now publicly recognized the commitment of the Indian American community for years. I am particularly glad that there are so many women. MR Rangaswamy, founder of IndiaDispora said that our society has really served America.
Among other high-ranking Indian Americans, Mala Adiga was appointed as the policy director of future first lady Jill Biden. Garima Verma received Dr. Jill Biden created Digital Office of the Director.
Similarly, another woman, Sabrina Singh, will serve as deputy press secretary in the White House. For the first time, two Kashmiri women, Ayesha Shah and Sameera Fazli, were also given greater responsibility in the White House. Therefore Bharat Ramamurthy was made the Deputy Director of the National Economic Council.
Gautam Raghavan will be the Presidential Personnel and Vinay Reddy was appointed as the Director of the team to write Biden's speech. Young Gujarati Vedanta Patel will serve as Assistant Press Secretary to the President in the briefing room. Apart from this, Tarun Chhabra, Sumona Guha, Shanti Kalithal, Sonia Aggarwal and Vidur Sharma will also work in Biden's team at the White House. Neha Gupta will be in the White House Council's office, while Reema Shah will be the deputy associate counselor.
20 Indian American officials from White House
Vedanta Patel, Reema Shah, Neera Tandon, Drs. Vivek Murthy, Vanita Gupta, Uzra Zeya, Mala Adiga, Garima Verma, Sabrina Singh, Aisha Shah, Sameera Fazli, Bharat Ramamurthy, Gautam Raghavan, Vinay Reddy, Tarun Chhabra, Sumo Shati Kalithal, Sonia Agarwal, Vidur Sharma, Neha Gupta