World
Disappointed by India's vaccine diplomacy, China writes elfel about Indian vaccine in Global Times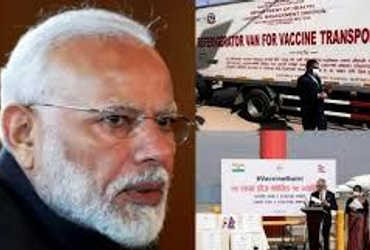 – India sends Corona vaccine to neighboring countries
New Delhi, Monday, January 25, 2021
India has taken the initiative to send the Corona vaccine to neighboring countries, calling it vaccine diplomacy and China has raised some ambiguous questions in its mouthpiece Global Times.
India has so far sent Corona vaccines to all SAARC member countries including Sri Lanka, Afghanistan and Pakistan. So naturally the oil spread to the stomach of China. This vaccine in his mind is diplomacy. China began publishing the Elfel Report in its official mouthpiece, the Global Times.
In particular, the fire at the Serum Institute in Pune raised questions over India's corona vaccine production capacity. India has to give Sri Lanka five lakh doses of the vaccine on 27 January. Similarly, Kabul was preferred in vaccination against Corona.
Citing the BBC, the Global Times claimed that India was in a hurry to vaccinate its neighbors. Indian vaccine manufacturers have not yet conducted proper testing or studies.
China also claimed that the Chinese vaccine was being given in India. At a time when China is on the pretext of providing financial assistance to some neighboring countries, China believes that India's vaccine diplomacy could adversely affect China's footsteps. As far as Nepal is concerned, the Drug Controller of Nepal has not yet approved the Chinese Corona vaccine in Nepal. Similarly, the Chinese ruler in Maldives does not want to recognize the Corona vaccine.
Secondly, Cambodia, a special friend of China, also requested India to give us the benefit of your vaccine. However, Cambodia has received 100,000 doses of the Chinese vaccine so far. It is not known whether Cambodia gave the vaccine to its citizens. The Global Times claimed that many countries have not yet purchased or received the Indian vaccine due to doubts over its quality.