World
20 extremists arrested in Pakistan over Hindu temple demolition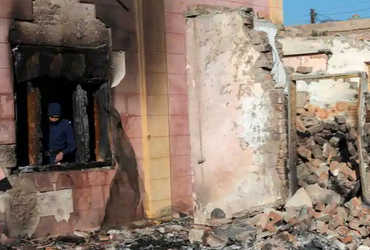 (PTI) Peshawar, Ta. 21
A Hindu temple in Khyber Pakhtunkhwa province of Pakistan was torn down and set on fire by many radical Muslims. In that case, the police had registered a case against 30 and arrested 20.
Police have arrested 20 people, including Jamiat Ulema-e-Islam leader Rahmat Salam Khattak. A Hindu temple in Karkar region of Khyber Pakhtunkhwa province was vandalized and set on fire by a mob of radical Muslims.
The video of the incident went viral on social media. Minority Hindus in Pakistan are facing religious persecution. There are an estimated 4 to 5 million Hindus in Pakistan and they have been the subject of frequent complaints of discrimination.
The Hindu community of Pakistan condemned the incident and demanded immediate action. The Chief Minister of the state also paid attention and ordered immediate action. The case will be heard on January 9 in the Supreme Court of Pakistan.
Pakistan's Human Rights Minister Shireen Mazari condemned the incident in a tweet. This temple is more than 100 years old and is also the tomb of Paramhansji Maharaj. Hindus of Singh province also visit this temple.